It's that time of year again to pull out that fishing equipment, strap on those waders, and beat the rush to your favorite spot! Nothing beats leaving the house before the crack of dawn with the sweet aroma steaming from mud brown coffee and the fresh fragrant earthy-scented mealworms swimming in espresso bean dirt. Something about those unique smells just go together like Abbott and Costello or Frankenstein and his monster.
But before you rush out the door in the early twilight, think about giving another area a shot this fishing season. There are plenty of places to go fishing all around the Somerset and Cambria Counties, some more hidden and remote than others, and also teeming with fresh brook, brown, and rainbow trout. We are not fishing connoisseurs at Spangler Subaru, but we have done our best to compile a list of three great spots to go fishing in the area. We only researched streams and avoided larger rivers, such as the Youghiogheny.
Chest Creek
The first on our list, Chest Creek, is a tributary of the West Branch Susquehanna that is found in both Clearfield and Cambria County. It runs for about 40 miles primarily north, originating in Cambria County and empties into the West Branch Susquehanna right as it passes through Mahaffey. Most people might be familiar with the Susquehanna swelling with bass, but at Chest Creek, designated a coldwater fishery, you will find an assortment of brook, brown, and rainbow trout.
There are several areas along the river where the Fish & Boat Commission stock trout at the beginning of the state's fishing season, four in total in Cambria County alone. These areas will be stocked 1-2 weeks before the season start and again 2-3 weeks after it is already in session, offering ample opportunities for fishermen to catch multi-colored meals or red-waxed bellies. Brook trout may be more difficult to find, as they are only stocked in one location, and anyone who may be reeling for this catch may want to start out near the stocking point on Brick Road, roughly 7 miles north of Saint Francis University. Fortunately this point is closer to the source of the creek and those downstream may still be the lucky beneficiaries of one or two fish that have wandered far down the beaten path.
One drawback to the creek is that about half has been deemed impaired by the Pennsylvania Department of Environmental Protection for siltation. This should not come as too much of a surprise because Cambria and Clearfield Counties have both held a long history of coal mining and waste run off that have long polluted the waters of nearby streams and rivers. Of course this might mean that wading through it might cause that thin mask of dust to swirl to the surface. Nonetheless, the creek is still teeming with trout and begs for that lure to bounce ominously in its ripples.
Bens Creek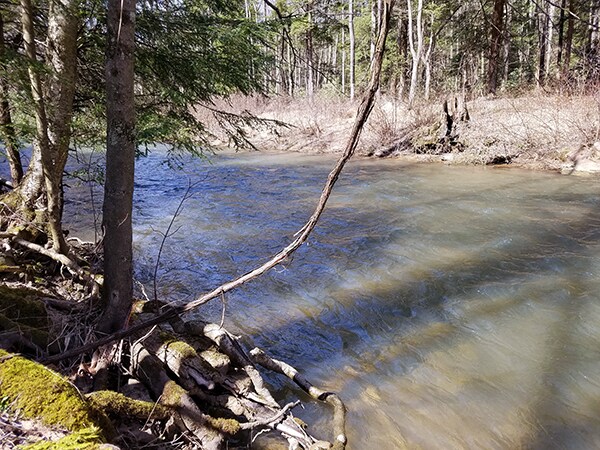 Bens Creek itself may be misleading in the title, because there are actually two tributaries that come to their confluence to form Bens Creek; these are called North Fork Bens Creek and South Fork Bens Creek. The South Fork will be referenced here because it provides the greatest chance at catching trout, stocked by both the Fish & Boat Commission and the Greater Ferndale Sportsman's Club. A survey performed in 1994 actually found the stream to be packed with trout, 20 – 40 pounds of wild trout per acre, class B. That may not seem much given the area of an acre, but it is considered above average for a stream that is considered stocked with trout.
The source is found way up in the Laurel Highlands near Route 271, oddly enough, for both the North Fork and the South Fork. While they originate several miles away from each other, both tributaries sprinkle crisp, clean water down the mountain due east, where they meet up shortly before heading into Ideal and the town of Bens Creek. They are High-Quality Coldwater Fisheries and parts of both headwaters have been designated as Exceptional Value by the PA Department of Environmental Protection, but the South Fork has struggled with tainted waters for quite some time.
The majority of the South Fork flows parallel to route 985 and works its way past many residential areas. However, as it flows through Thomas Mills, where major coal mining operations took place in the early and mid-1900s, there was a dangerous discharge coming from what is called Rock Tunnel. This discharge high in iron and alkaline coated the stream with that putrid Mars-colored blanket and it was not believed that trout could survive from lack of resources in those waters. Fortunately, a survey conducted in 1976, showed that sediment settled after a short distance, and beyond this the waters were ripe and perfect for sustaining trout. Sometime later the Stonycreek-Conemaugh River Improvement Project (SCRIP) was established and this drainage issue was tackled by creating holding ponds and connecting trenches, a site many in the area are used to seeing around streams and rivers once infected with mine run-off.
More recently SCRIP found another mine that began leaking discharge into the newly rejuvenated water, and efforts are underway to complete a project that will mitigate that acid. The care and consideration going into reviving this stream helps harness life, and with the Fish & Boat Commission stocking the South Fork portion twice in two different areas, fishermen will have an easy time catching brook, brown, and rainbow trout alike.
Clear Shade Creek
Clear Shade Creek is the last recommended fishing spot for opening season. This is part of a dual tributary system that, at their confluence, forms one larger stream, Shade Creek. Although unlike the story of North Fork and South Fork Bens Creek, the story between these siblings is much murkier.
Clear Shade Creek forms in Gallitzin State Forest relatively close to the spot where route 56 begins its descent down the Allegheny ridgeline and towards Pleasantville. It runs primarily south and slightly west before forming with its ominous sibling, Dark Shade Creek. The makeup of both tributaries is rather intriguing because of their duality, a near natural representative of good and evil, where unfortunately evil prevails in this short run of the race.
SCRIP details how Shade Creek has become the primary pollutant to Stonycreek River because of several sites bleeding iron and acid into Dark Shade Creek. Beginning in 1807, the Shade Furnace began mining and extracting iron ore consistently until about 1858, when it was abandoned and the territory was passed through several different owners. Today the furnace can still be seen, with some heavy overgrowth. Later, in the early 1900s, coal mining then moved into the area in large scale, impacting the local geology and ecology. Those mines were abandoned in 1957, but they left their footprint in the form of acid mine drainage, the largest which occurs behind the fire hall in Central City dumping 3,000 gallons of mine drainage into the small stream. This causes the water to be so acidic that it cannot even sustain life in the rusty discolored waters.
Of course, it would not be recommended to try this water for fishing, at least not until SCRIP enacts its process to clean up the Stonycreek Watershed (which, by the way, is partially motivated by bringing bass to the river). However, if you want pristine, crystal clear water untainted by the forces of natural resource extraction, simply go north to find Clear Shade Creek. These waters have remained pristine because they are found in state forest area and have enjoyed ownership by water authority over the years. It is considered by many enthusiasts as one of the best fishing streams in the area, and is stocked by the Fish & Boat Commission and by the Windber Sportsmen's Club.
The creek is also one of the only streams in the area that has a fly-fishing only section, which is stocked periodically throughout the year. Along with the plentiful naturally reproducing fish, there is also a myriad of outdoor activities to do at various points along the creek, including kayaking and hiking, and the tranquil atmosphere will help any outdoorsman unwind. The good creek has much to offer and this is the reason why it makes the list of our favorite fishing places in Cambria and Somerset Counties.
At the end of the day many avid fishermen know and understand what works for them, and where they can find the best catches. By no means is this a guide eliminating other areas or even a statement that these are the best streams to cast a lure. So when you pack up your Subaru on April 15, we simply want to wish you the greatest of luck and hope your catches are robust and plentiful. Have a happy and safe fishing season!