I share a lot of similarities with my predecessor, to the point it may be slightly eerie. For starters, we both worked at Enterprise Rent-A-Car early in our careers (and for only a whopping 5 months or so each), we share the same initials, we both hung around Johnstown when all of our friends were leaving (or at least tried to), and we even have a similar personality. I don't mean that as a generalization, we nearly share the same Myers-Briggs type (only splitting the often gender-specific T/F function).
But what was strangest to our coworkers at the dealership is that we both owned a Dodge Charger before later trading it in and leasing a Subaru. Last year she wrote a blog entry describing her reasons for trading the brutal power of a V8 Hemi engine in for a car that could probably get run over by a Charger. Now I will describe my reasons.
Power in an everyday driver is an oft-confused & over-emphasized concept
Growing up in very rural Pennsylvania, the general sentiment of car enthusiasts was that you had to have a 6-cylinder engine or larger in order to power through various hills, slopes, curves, and snow. In the 1980s and before, this was probably true. However, engineers have dedicated multitudinous years of research to create more efficient vehicles, in part for the consumer and to comply with bureaucracy. They have made this step a number of ways. A few examples include removing carburetors and replacing this system with fuel injection, turbocharging engines, and simply finding ways to make the vehicle lighter.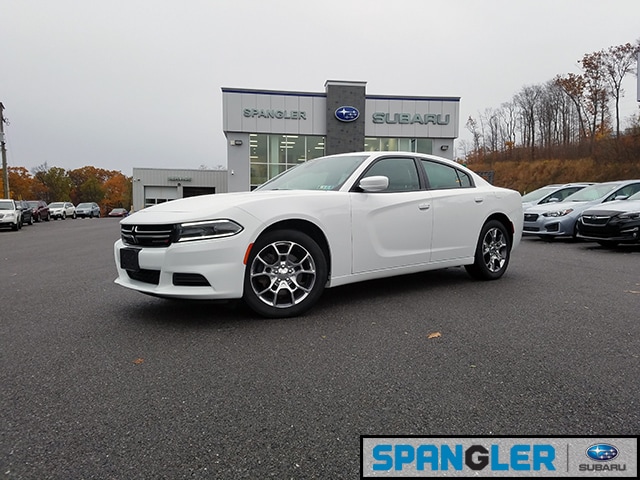 Of course they have had to find ways to still give the appearance that a vehicle was sturdy, more powerful, etc. because, let's face it, America is obsessed with bigger and better. One interesting tidbit is that engineers focus on the acoustics of the door shutting to give the feel that a door is heavy and crafted well.
Nevertheless, prior to purchasing my Dodge, I had driven a compact for 7 years with a tiny engine. Once I racked up too many miles, it began losing power up larger hills. I swore at that point I would buy a vehicle with a larger engine; so I did. I stuck with the base model on my Charger, so it only had a V6, but boy could I feel the difference. Not only was I scaling large hills quickly, I was also passing cars with more than enough juice for continued acceleration.
But I quickly realized that you could not drive 100 mph everywhere.
I was fortunate enough never to receive a ticket, but it dawned on me quickly that, while I do enjoy fast acceleration, I can still only go as fast as the person in front of me. Not everyone has a lead foot, and the only times I have ever been behind a vehicle that accelerates poorly was because of the operator, not the performance of that vehicle's engine. The days of Jack barely making it up the highway to the Overlook Hotel in his VW Beetle are over. Today's cars will always make that trip unless the engine is well past its prime.
Dodge reliability is, well let's face it, rather crummy
When I was first buying my Dodge, reliability was one of the last things on my mind. I made the discernment that I would need an extended warranty, but the frustration with time in shop and the possibility my third party warranty could get turned down were an afterthought. In hindsight, I am glad I never had to use it and have yet to cash in on the unused portion.
Why did I decide I needed an extended warranty? Dodge consistently underperforms in the reliability sector. Before we discuss this, however, let's talk about Subaru reliability first. Of course, the branding message that has been in circulation for years is that 98% of Subarus sold within the last ten years are still on the road. A better and much more reliable measurement to discuss comes in the third party form of Consumer Reports. In 2017, Subaru was recognized as the 5th ranked brand in a study that included road tests, predicted reliability, owner satisfaction, and safety. The overall score was 74, only four luxury brands scored better. Where was Dodge? 27th out of 31 brands with an overall score of 56.
Another major turnoff was the faulty transmission. In the 2012 model year, Dodge decided to drop the ZF 8HP transmission into the Charger after the previous transmission had far too many complaints. It was a great idea as the ZF 8HP is used in many different car makes and models and is very reliable…except in a Dodge. The 8-speed transmission shifted well in the higher gears and it increased fuel economy, however it shifted very hard at low speeds, including very hard acceleration when moving from a rolling stop (wait, aren't those illegal anyway?) There are quite a few complaints online about the transmission, and it appears the culprit is actually poor software programming.
The other important system to point out is the all-wheel drive. Naturally Subaru Symmetrical All-Wheel Drive is unparalleled. The engineering of the car is centered on the AWD system, so it is not much of a surprise that Subaru AWD is superior to the Charger's AWD system. The Charger is rear-wheel based, and that alone grips horribly, often slipping around turns with no moisture even on the road. Fortunately the AWD kicked in a few times, and I have to admit on one occasion likely saved my life on an icy road. Nonetheless, the Charger was truly a tank in the winter, somewhat to my surprise. The system automatically kicked on when below 40 degrees F, and I never had issues going up snow-covered hills. However, the full-size sedan was bulky and, when the vehicle slid, you could feel the 'catch', sometimes feeling dangerous and to my passengers, scary.
Overall value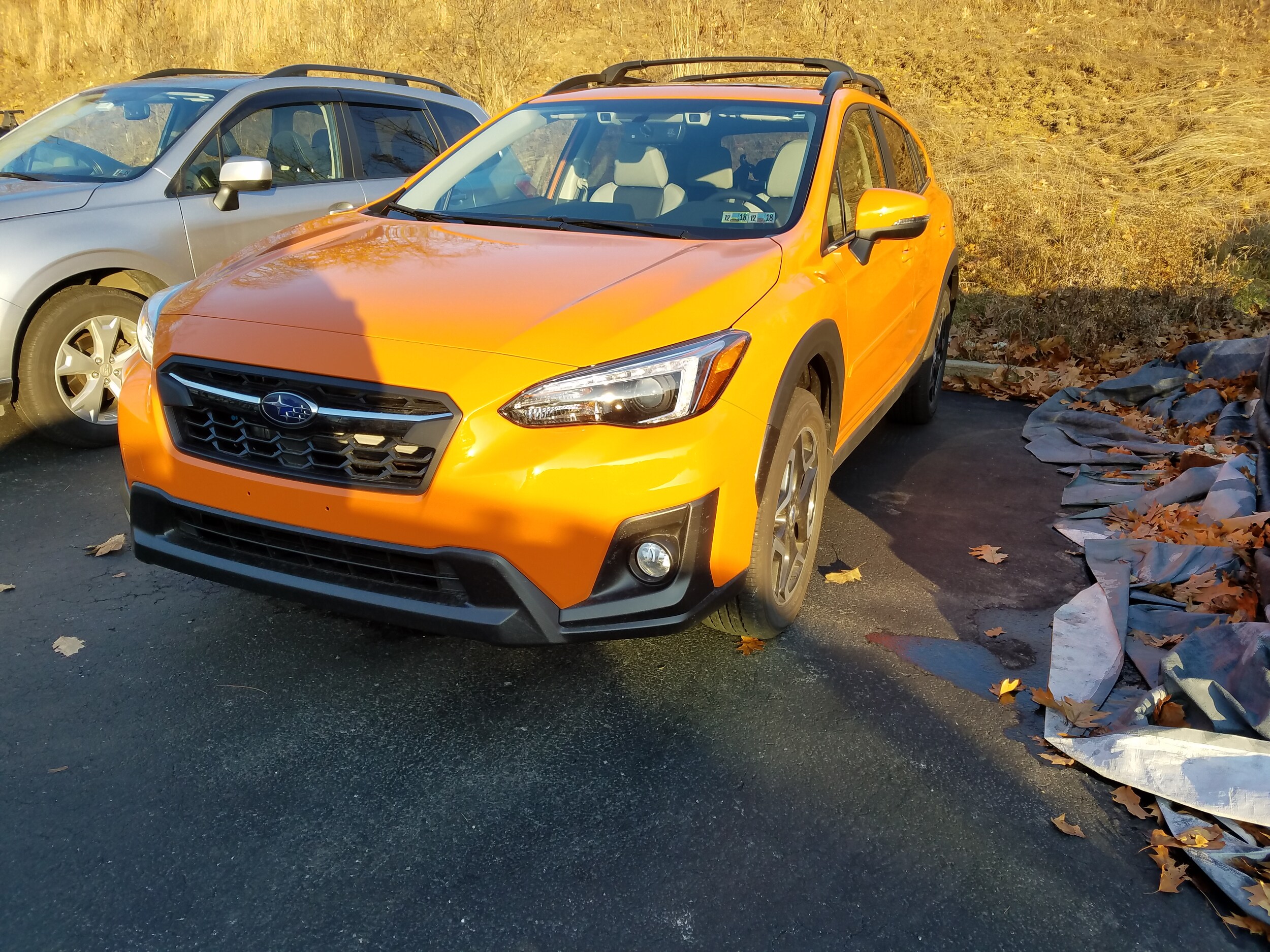 Let's talk about the overall value with the switch. With our society of choice that lets our dollars do the bidding, any time we make a switch it is because we think we are getting better value for the price. I had a lifestyle change from the time I bought my Charger until the time I began leasing my Crosstrek. With my previous employer, I had been driving a substantial amount of highway, but after I began employment with Spangler Subaru, I moved back into town and now drive a whopping six miles a day. City fuel economy was not particularly great with the Charger, averaging about 17 miles per gallon or so. That was over the summer when the AWD was generally kicked off, so it would be lower in the winter time.
With the Crosstrek I am getting about 23 miles per gallon in the city, which is less than what it is rated for. I have been idling in the morning because I hate scraping ice from my windshield which likely contributes to a lower measurement. Still, the fuel tank is slightly smaller and lasts a bit longer, helping me save on fuel costs in the long run.
Maintenance also comes with savings. I purchased the prepaid maintenance with my lease so that I virtually just pay for gas in my Crosstrek. Even though I do pay for it, it's an added bonus I was able to work it into my lease payment. The Charger still had lower miles when I traded it in; I had hit no major maintenance intervals, but I did hammer out two oil changes, both costing a little less than $100. The Charger takes synthetic (which is not necessarily a bad thing), but its bigger engine needs a lot of it. I was actually afraid of the longer term maintenance associated with the car, so I am glad to have it behind me now.
Last, but certainly the most important part was my payment. Because it is a lease payment, I was able to drop the amount per month by about $20, and my insurance also dropped another $10 per month compared to my Charger payments. My Crosstrek is a Limited, with the larger multimedia display, moonroof, and safety features like Eyesight. The all-weather package is also standard on this trim. As I said before the Charger was base, no heated seats, and I had a tiny uConnect display that looked horrid in such a big car. There was no moonroof and the most prominent feature was a six-way power seat. I went from a base model to a fully loaded vehicle with a lower payment, savings on gas and maintenance, and did I mention I also received a hefty check back because I was in equity? It was a no-brainer to make the switch, and a few months later I am happy as ever.
The Crosstrek is my first Subaru and likely not my last. It fits my lifestyle and the costs are very manageable for my income bracket. Plus living in a snowy area is great to have a vehicle that conforms well to rough weather. The Crosstrek is a bit smaller in overall size but it is just as roomy and has plenty of cargo space. Plus, it doesn't rock back and forth when I come to a complete stop like the Charger, because apparently Dodge builds suspension systems from the 1970s.
The Charger was not a bad car though. I thoroughly enjoyed driving it, but it was not practical anymore for me, so I had to get rid of it. Nonetheless, I still do like the Charger, and I would be lying if I said I didn't turn my head when I see one on the road. Maybe someday I will own a Hellcat as a summer/hobby car, because who doesn't want 707 horsepower? Maybe. Someday.