2017 Subaru Impreza 2.0i Limited Sedan vs. 2017 Ford Focus Titanium Sedan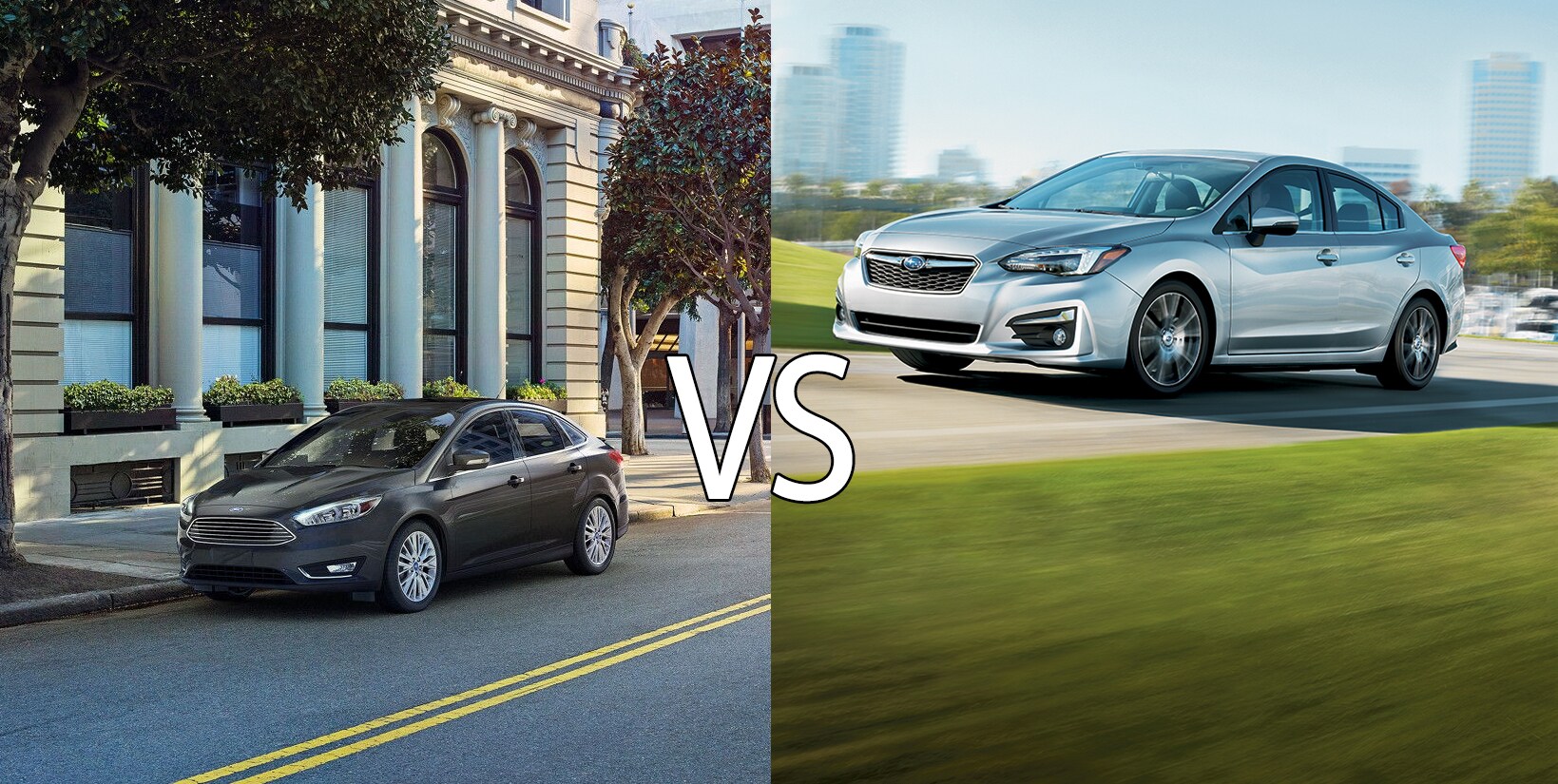 We know what you are thinking. You are on the lot for the first time, searching for that car you can fall in love with, and who cares about the window sticker because look at the wheels on that one! The test drive has you exploding with delight and you knew from the instant you put the key into the ignition that you would name her Betsy and she would last you 7 years. Forget how nervous your father is, or how he is stammering with the sales consultant because, in your heart, you know you will take care of Betsy every single day you wake up to her, and this is the time to show your parents that you can operate as an independent adult. Most of us have been there, and any time we get the chance to replace our clunkers the excitement never fades, although dad's indignation usually does.
However, before you sign that contract, take the time to research your first new car.
The compact car market is always attractive to first time buyers because of the affordability and versatility a lot of these cars across the market offer, not to mention that quite a few look rather sharp and appease the visual senses. A lot of buyers are following similar life circumstances, such as finishing school/college, going into or discharging from the military, landing that first "big job", or starting a small family. A lot can happen in the span of a few years in early adulthood, so it's important to find a car that will do the job from beginning until end.
We'll try and help you out by comparing and contrasting a 2017 Ford Focus Titanium and our very own 2017 Subaru Impreza 2.0i Limited.
Performance
First we'll start with the mechanics. The Focus comes with a 2.0L Ti-VCT I-4 engine with optional Flex Fuel to reach PZEV status. It puts out 159 horsepower at 6,500 rpm and 146 lb-ft of torque at 4,500 rpm. It is built for fuel economy and city mpg is 26 while highway is 36. The transmission is a 6-speed automatic with the ability to switch to manual mode temporarily.
The Impreza comes with a 2.0L boxer engine that puts out 152 horsepower at 6,000 rpm and 145 lb-ft of torque at 4,000 rpm. It is designed for fuel efficiency, which will see a benefit of 28 mpg in the city and 38 on the highway. The Lineartronic Continuously Variable Transmission (CVT), which uses electronic controlled variable pulleys, provides smooth acceleration and quiet operation. One notable difference between the Focus and the Impreza is that all Impreza models are PZEV certified.
Features
Next we will move onto the interior. There are some similarities here that provide both comfort and convenience. For example, both cars feature leather seats with heated front seats. The driver's seat in both cars has a power adjustable control, so there is no annoying cranking or pushing or pulling yourself to get the seat into the best position. Additionally they both have power a moonroof and feature an 8" touch-screen LCD. Outside of these things we begin to see the differences.
The Impreza features an automatic climate control system whereas the Focus has dual zone climate control. The heated seats in the Impreza are part of the All-Weather Package, which features windshield wiper de-icer and an exterior mirror defogger. The Focus does have the benefit of rear seat vents for the passengers in the back while the Impreza does not have this feature. As mentioned above, both vehicles do have an 8" LCD display, the Impreza coming standard with the STARLINK Multimedia Plus and the Focus with the SYNC 3 Entertainment System. The SYNC 3 comes with HD Radio, Sirius XM, and outfitted to a Sony speaker system with 10 speakers. STARLINK, on the other hand, is paired with 6 Harmon/Kardon speakers, and is equipped with Sirius XM, HD Radio, and, new to this year's model, Apple CarPlay and Android Auto.
Safety
The active safety features vary somewhat as well. Ford has equipped its Focus Titanium with a Lane-Keeping System and a Blind-Spot Information System. Subaru, on the other hand, places its Eyesight system in the Impreza Limited. This does include Lane-Keep Assist, but also offers pre-collision braking, lane departure and lane sway warnings, and adaptive cruise control. Additionally the Impreza has Blind Spot Detection and Rear-Cross Traffic Alert for when you are backing up out of tight spaces. These safety features are what led the IIHS to award the 2017 Impreza with a Top Safety Pick +, an award the Focus was not given on the 2017 model year.
Let's not forget Subaru's Symmetrical All-Wheel Drive (SAWD) system. This, of course, made standard in every single Subaru sold in America today except for the BRZ. It is important to note that not all AWD systems are made as efficiently as others. Most systems are dropped into cars that are rear- or front-wheel drive and the transmission sends to power to all four wheels only when necessary. While this may be a benefit for better gas mileage in dry conditions, these AWD systems are generally heavy and unbalanced, and ultimately inefficient.
With Subaru's SAWD, the vehicle is made to support this system efficiently. The vehicle uses the design of the boxer engine for a low center of gravity and equal-length axle shafts. Because the SAWD is always "on", there is no need to drop additional components in, like an extra gearbox that will add weight and cause the vehicle to become unbalanced. This will keep a smoother ride in less than perfect conditions and keep the occupants of the vehicle safer. As we know living in the Northeast, we are vulnerable to snowy conditions often, and an all-wheel drive system will be favorable over a rear- or front-wheel drive system. The Ford Focus Titanium does not currently offer an all-wheel drive system of any sort.
Price
The final comparison we need to take into consideration is the overall price. Here the Focus will take the prize, not just between the two trims compared, but throughout the entire line up. The Impreza, at the base 2.0i model, starts at $18,395. The Focus, with the base S Sedan, starts at $16,775. For the models in this comparison, the Focus Titanium would retail at $25,640 while the Impreza 2.0i Limited, slightly higher at $27,410.
Bottom line: Of course we are biased, and we will suggest the Impreza any day of the week, but it is important to familiarize yourself with the features that both offer and what they do not. The performance of each vehicle is going to be very similar, where the engines will get you from point A to point B while conserving fuel but you won't find either engine performing on the rally track (we can save that comparison for the WRX and Focus ST). The Impreza does get slightly better gas mileage while also giving you the comfort of an all-wheel drive system, probably the biggest selling point, but this may not even be a deciding factor for you, depending on who you are and what your needs are. Ultimately, the guidance we suggest is to think about where you want to be in 7 years and pick the car that you think can take you there.