For the month of April, and continuing until the end of the year, Subaru is teaming up with TerraCycle to recycle hard-to-recycle waste in our dealership. Subaru is working hard to do our part in preserving the earth, which is why we bring this opportunity to you.
In the early 2000s, Subaru developed the first zero-landfill manufacturing facility in Lafayette, Indiana. This was part of an initiative to bring sustainability in vehicle manufacturing processes that also help increase quality of life.
Along with partial zero emission vehicle classification that Subaru vehicles have, Subaru has donated millions to national forests and parks to continue green initiatives. Subaru does this because it is the right thing to do.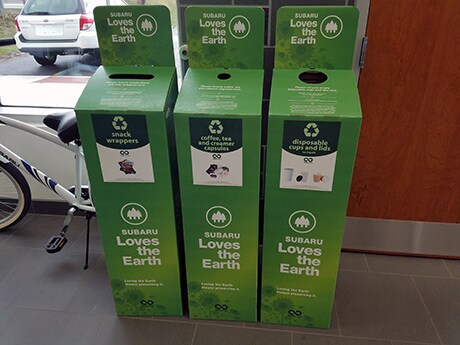 You can help us take one more step into the right direction at eliminating waste by recycling certain materials with us. Here is a list of things we are collecting:
Paper, plastic, & foam cups and lids
Coffee, tea, & creamer capsules (including K-cups
Individual & family sized snack bags
During the campaign, we periodically send this waste back to TerraCycle
who will break it down into raw materials. From there, they manufacture things like flowerpots, park benches, playground equipment, and so much more.
Towards the end of the year, we will place an order with TerraCycle for a few items, and donate those to a yet-to-be-named local agency.
Help us keep the earth green!