It is no secret that we experienced a rather rare and somewhat damaging hail storm in Johnstown a few weeks ago. Along with the threat (and touchdown) of a tornado, we never see storms like this in the Allegheny Mountains, in part thanks to our position along a ridge.
Nonetheless, Mother Nature proved that she can be as relentless here just as she can be anywhere. Unfortunately for auto dealers, the hail storm caused significant disruption and damage to many new and used vehicles available for sale.
In come the flashy sales and promising discounts on vehicles that have 'light' hail damage, as they say anyway. As Spangler Subaru tries to remain as transparent as possible with all things, we are going to outline the truth to hail sales, and who wins and who loses.
Two Choices
Once a storm passes and significant damage is made to a dealership lot, that dealership has to make one of two choices:
1. File an insurance claim, pay a deductible, have repairs made before offering cars for sale
2. File an insurance claim, pay a deductible, offer cars for immediate sale without repairs and pocket insurance money.
No one wants to deal with the situation, because it is messy no matter the final outcome. Depending on the final deal, however, you can tell if you are truly getting a good deal or if the dealership is making out on your behalf.
According to Autolist, the average cost of hail damage repair in 2018 was $2,500, but can extend far beyond that number. It may seem like minimal damage aesthetically, but cost-wise it can be nearly identical to repair a front-end collision. Would you drive around a car with a bumper missing and headlights that don't function properly?
Pictured below is our famous run car. From the pictures provided, it is very difficult to make out many dents (and trust me, standing next to it is no different). However, our insurance adjuster estimated repairs costing $3,000.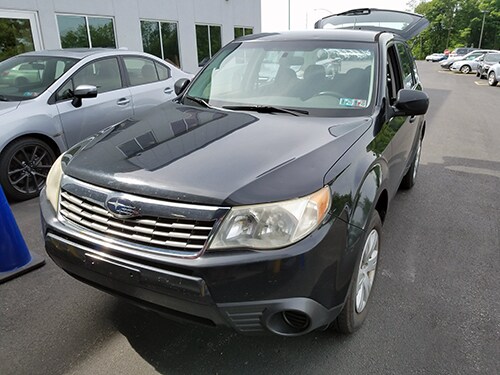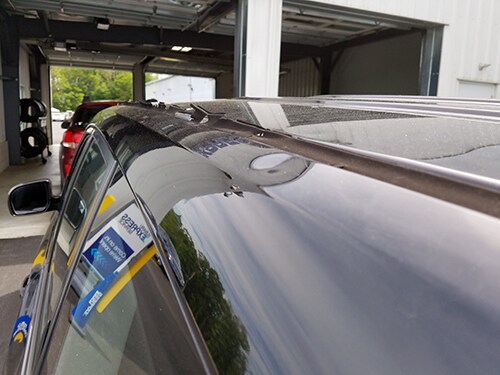 The Deal
Some dealerships will make the repairs, and then offer discounts based on these repairs. It won't be the total cost of the repair, because at the end of the day it was, in fact, properly repaired, but it may help offset any type of depreciation and loss in future resell value the vehicle incurred from the damage.
Other dealerships will sell the vehicle outright without making the repairs. This is where you as the consumer should be extra careful and apprehensive. Dealers may offer an attractive discount, such as $2,000, but what they won't disclose is that the estimated cost of repairs is actually $5,000, short changing you $3,000. Additionally you cannot file a claim with your insurance to make repairs. If you want the damage fixed, you must pay out of pocket.
Because of the high volume of repairs being made at a dealership, typically the estimates come at a slightly lower cost to the dealer than what they would be if a car is repaired privately. This means that if you decide to purchase a vehicle at a discount equal to the dealer's estimated cost to repair, you may still pay more if you plan on getting the repairs done after-sale.
What You Should Do
Here are a few steps to ensure you are getting a good deal, and the dealer isn't just shaking you down for extra profit:
1. Ask the dealer for the estimate. If they refuse to give it, don't sign for the vehicle
2. Contact your insurance and inform them of the damage. Ensure they will still cover possible future comprehensive claims
3. If the dealer sells it without repairs, ask them why they are choosing to do this
4. Consider the price of the damage in the future if you plan to resell the vehicle
Additionally, damage to each vehicle is different, and the costs range drastically from the same storm. Be cautious if a dealer is offering the same, blanket discount on every damaged vehicle.
Bottom Line
Our take – a hail sale is a gimmick.
You may be in a situation where taking a hail damaged vehicle is beneficial. For example, you plan on purchasing a slightly older used vehicle and running it into the ground, or passing it onto a child, sibling, or friend who will do the same. In this case, resell value isn't a consideration, so you'll want to push for the deepest discount you can (within reason of course). Otherwise, don't jump on an advertised hail sale discount simply because it's a discount. You could end up paying more in the long run.