"Thank you for letting my friends be in the commercial," Sophia says as she turns to leave the production set. This is the final thing she says after filming the Subaru Share the Love Event commercial. Even though she has been battling blood cancer for nearly the past two years, she puts aside her own worries and places her utmost care on others.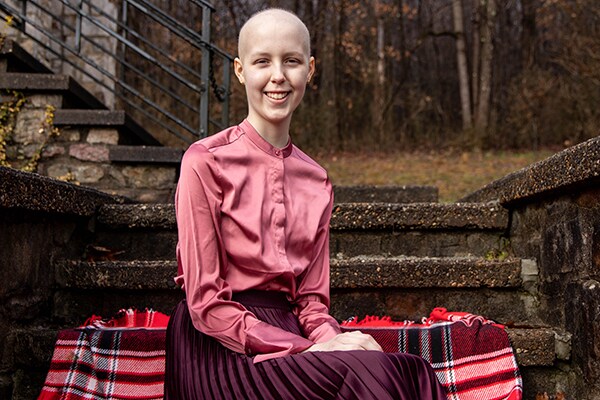 Sophia Tuinstra, a Westmont Hilltop Jr/Sr High School student who will turn 16 years old during the course of the Subaru Share the Love Event, was diagnosed with B-Cell Acute Lymphoblastic Leukemia in early 2018. It began with small things – a sore throat, body aches, lethargy, but the diagnosis was made after a nose bleed that would not stop.
After a nine day admission to the Children's Hospital of Pittsburgh UPMC, Sophia's battle back began during the Induction Phase with a high dose of steroids and endless chemotherapy treatments. Throughout the year, she would continue to manage eight different phases of treatment, spend over 70 days in the hospital, and receive 23 spinal taps. Eventually she made it to her current Maintenance Phase where she can see the light at the end of the tunnel.
Along the way she faced many challenges such as decreased weight, loss of hair, and innumerable acute fevers which always prompted immediate trips to the hospital. These constant trials began taking a toll on the lifestyles of her loved ones too. Her parents increased efforts to keep bacteria out of their home because of her decreased immune system and Sophia could not leave the house or offer hugs even on the best days. Her two siblings developed anxiety, worrying that they "caught" leukemia when either had a bloody nose, and some of her friends stayed away in fear they may exacerbate things.

Though her treatment caused lethargy and pushed her family to keep the house spotless in every corner, it would not deter her from receiving her Silver Award through Girl Scouts of America. She received the award by writing a book about technology for children, which she donated to the Children's Hospital.
Now she is working towards the next goal – the prestigious Gold Award. Her plan is to create reusable sterile masks for children with fun and unique designs so that a scary and unfamiliar environment becomes suddenly less threatening to the often confused children under care.
She now looks upbeat and youthful, donning a gleaming smile, and can offer hugs again. A stranger may never even know the battle she faced for so long. The darkness of cancer came very close to Sophia, but her heart shined brighter.
Sophia is one of the reasons we chose The Leukemia & Lymphoma Society Western Pennsylvania & West Virginia Chapter as our local charity partner during this year's Subaru Share the Love Event. When you choose The Leukemia & Lymphoma Society as your preferred charity after purchasing your new vehicle, Subaru will donate $250 to the organization, and Spangler Subaru will match an additional $50. Help us bring light to the darkness of cancer.