The Subaru Share the Love Event
Official Check Presentation to LLS
Thanks to your elections, we managed to present a grand total of $50,196. On top of this, we have also raised an additional $10,200 through our annual reindeer events, for a total of $60,396!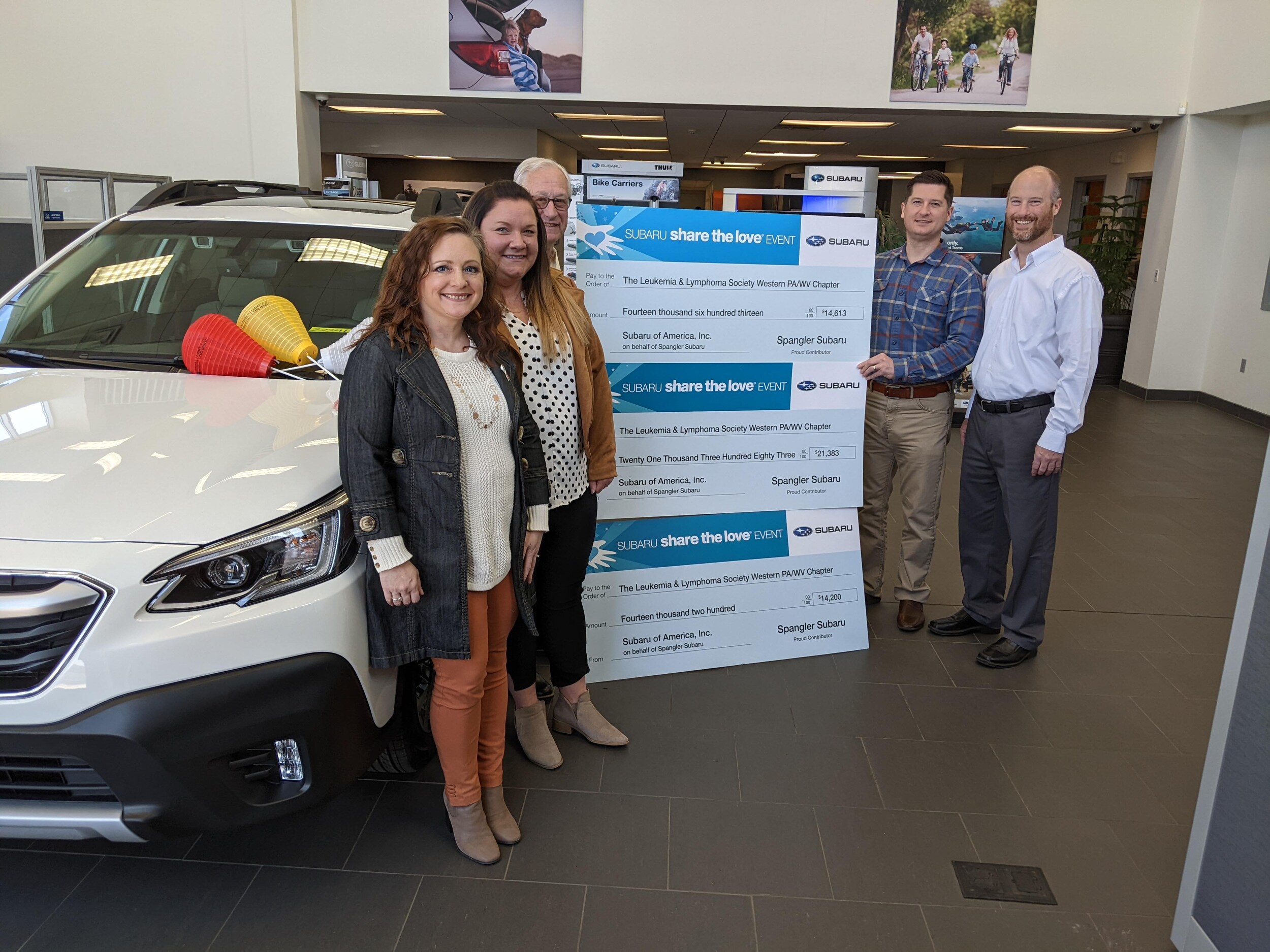 Adopt-a-Highway
Cleaning Up Route 403 for Subaru Loves the Earth
To continue our commitment with Subaru Loves the Earth, we have officially adopted a highway through Pennsylvania's Adopt-a-Highway Program! Our section is a two mile stretch of Route 403 outside of Greenhouse Park, and our first clean up coincided with the weekend of Earth Day. Employees, ambassadors, and family members volunteered together to collect 21 bags of trash to help keep the area litter free.
At a minimum we must schedule litter collections twice a year and the initial commitment lasts for two years. However, we believe this is the start of a long-lasting commitment to keep the roadside, river, creeks, and surrounding area litter free.
 
Johnstown Soup Kitchen - Saint Vincent de Paul
Collecting Cereal and Cereal Bar Donations
Several of our Subaru Ambassadors rallied together to collect cereal and cereal bar donations for the Johnstown Soup Kitchen, part of the Saint Vincent de Paul mission. Throughout December, we aided the ambassadors in collecting and, with the help of our customers, were able to fill up a WRX and Crosstrek to the brim with donations and deliver them right before Christmas. In all we collected over 200 boxes.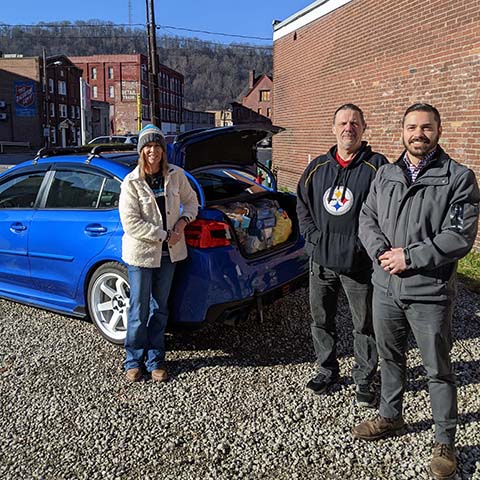 AdoptAClassroom.org
Subaru Loves Learning at Maple Ridge Elementary School
Subaru Loves Learning looked a bit different this year. We partnered up with Maple Ridge Elementary School, part of the Somerset AreaSchool District, to help provide much needed supplies for students. Through AdoptAClassroom.org, we were able to adopt six different classrooms. Through this partnership, we provided funds to the teachers who then purchased supplies they needed to help further the education of their students.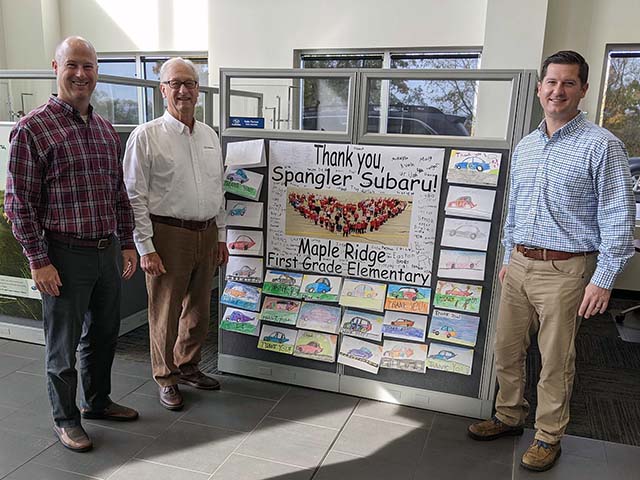 4th Annual Pet Trick or Treat
A Benefit for the Humane Society of Cambria County
October 17th, 2021
This marked the official return of Pet Trick or Treat! After halting a year because of the pandemic, we were excited to return to our signature event. Activities included the costume contest, pet portraits by WhatMiaSaw Photography, the Subaru Ambassador Doggy Carnival Games, and of course trick or treating.
There were many wonderful and creative costumes and we just wish that everyone could have won! Not only were we able to raise additional funds for the Humane Society of Cambria County, but we also donated $100 per dog or cat adopted from the shelter in October, up to $3,100.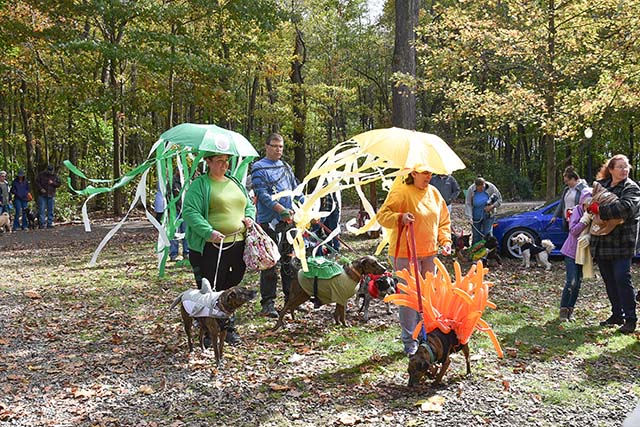 Greater Pittsburgh Community Food Bank
Food Drive Held at the Johnstown Galleria
Several of our employees had the opportunity to volunteer with the Greater Pittsburgh Community Food Bank - which serves our local food pantries in Cambria and Somerset Counties.
The food bank, alongside Feeding America, hosted a food drive at the Johnstown Galleria between 12:00 and 2:00 pm. Six employees of Spangler Subaru plus a local Subaru ambassador teamed up to man two loading stations. In all there were twelve separate stations helping 1,100 families not go hungry. About 900 cars, coming from both Cambria and Somerset counties, would enter the lines hungry and leave with 50 pounds of food. This included fresh produce, frozen meats and protein, and dry grains.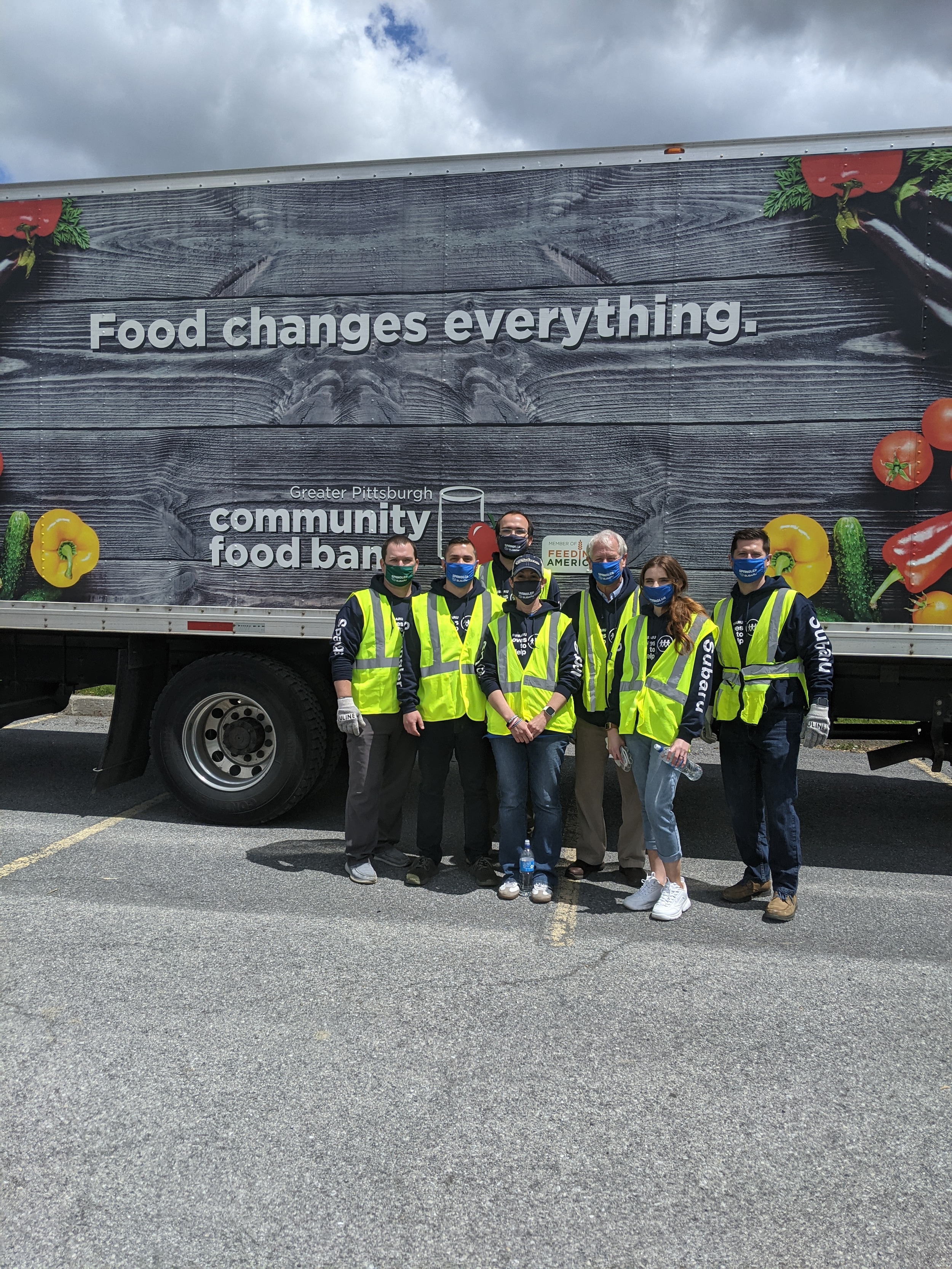 Family Reindeer Mini-Sessions
In a year of shutdowns and health conscious decisions, it was a nice treat to have the reindeer back for another photoshoot. Once again we raised funds for The Leukemia & Lymphoma Society, our Share the Love partner.
WhatMiaSaw Photography captured these magical moments with the reindeer, provided again by Spruce Run Farm. We supplied the original backdrop for the photoshoot. In all, we raised $3,300 for our partner charity.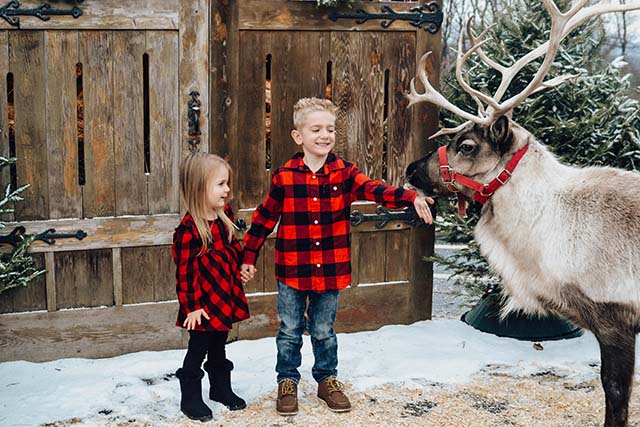 Family Reindeer Photo-Sessions
It was a day to remember when we hosted two live reindeer on our dealership parking lot! The reindeer, bred by Spruce Run Farm, hung around patiently while families visited and got professional photography taken by Phil Balko. Families reserved and paid for mini-session slots with all proceeds from the sessions benefitting the Leukemia & Lymphoma Society Western PA & WV Chapter. This was our way of kicking off the 12th annual Subaru Share the Love Event and helping out our local charity even further. We raised $3,119 for LLS.
 
3rd Annual Pet Trick or Treat
We had another successful Pet Trick or Treat at Windber Recreational Park this year during Subaru Loves Pets! Like last year, we collected shelter supplies and donations for the Humane Society of Cambria County. There were so many wonderful costumes this year. Congratulations to all the winners! Along with the costume contest, we hosted a basket party, Charlie & Friends brought doggy carnival games, and Pause for Paws provided the treats to be handed out during trick or treating. This is such a wonderful event and we can't wait to host it again next year!
 
Quemahoning Trail Ribbon Cutting Ceremony
As a part trail-construction sponsor and friends of LHORBA, we had the honor of attending the ribbon cutting ceremony for the new Quemahoning Trail. The 17-mile circuit runs its course around the Quemahoning Dam and was commissioned by the Stonycreek - Quemahoning Initiative. The trail had multiple organization contributing in many ways, including the Community Foundation for the Alleghenies who contributed the largest amount financially, the Laurel Highlands Visitors Bureau, DCNR, Hoganas who allowed part of the trail to bypass through the plant's property, and LHORBA who provided many volunteers to help create the trail. We love our outdoor recreation and we are thrilled to contribute to sustainable projects in our area.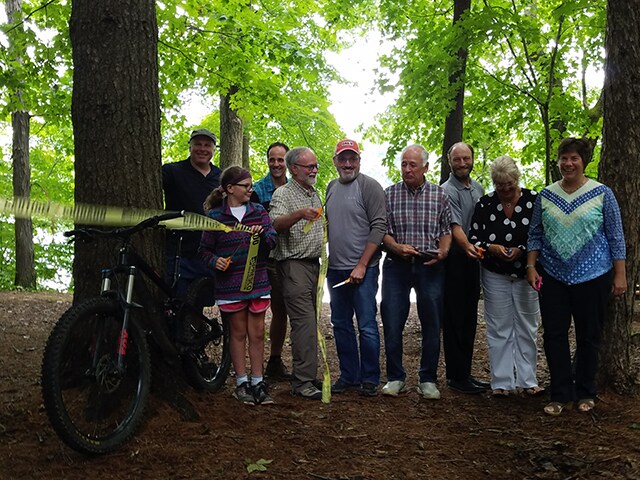 Central PA Pets Expo WEST
This year, the Central PA Pets Expo came to Johnstown! The show featured demonstrations by That Guy with the Birds, Shorty Rossi and his dog Ares from The Pit Boss, The Johnstown Police K-9 Unit, and so much more! Spangler Subaru was asked to be the official Rescue Row sponsor. Our sponsor dollars allowed many rescue shelters from the area set up at the event at no cost to them. We'll be looking forward to the Expo next year!
  
Subaru Loves Pets Trick or Treat
October 21st, 2018
For the second year in a row we held Pet Trick or Treat at Windber Recreational Park! This year all proceeds benefit the Humane Society of Cambria County. Charlie & Friends teamed up with us to bring doggy carnival games and Pause for Paws provided fresh, locally made treats for the pets. Four winners from the costume contest took home a Yeti full of Subaru Gear and a Petco gift card.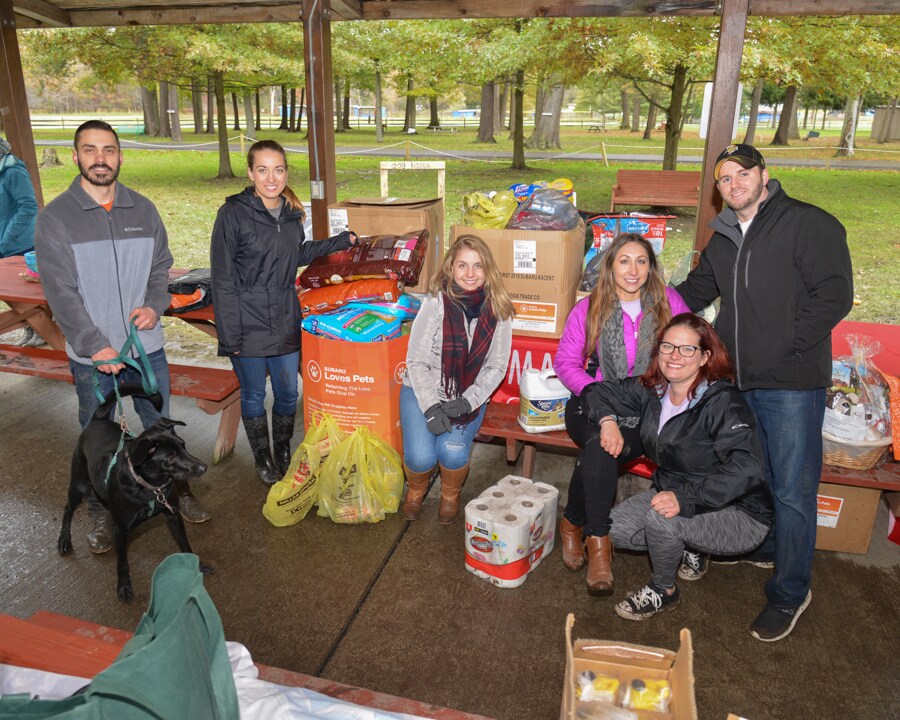 Subaru Loves to Care at Conemaugh Hopsital
Subaru Loves to Care, and this year Spangler Subaru donated blankets and messages of hope to cancer patients at Conemaugh Hospital. The event was organized through the Leukemia & Lymphoma Society, and the Western PA chapter was represented during the delivery.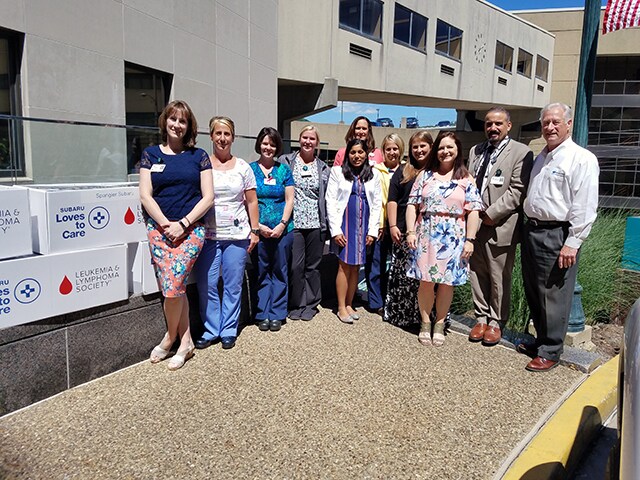 Share the Love Check Presentation at Joyce Murtha Breast Care Center
June 7th, 2018
Spangler Subaru was proud to present the check for the Subaru Share the Love event to Joyce Murtha Breast Care Center. This is the second year in a row JMBCC has partnered with Spangler Subaru. The check total was $10,816.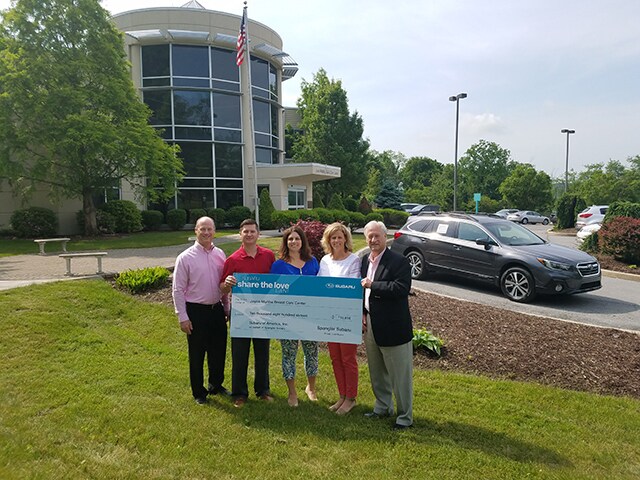 Forrest and Nancy Spangler Inducted to Business Hall of Fame
Forrest and Nancy Spangler, the late founders to Spangler Subaru, have been officially inducted to the Greater Johnstown/Cambria County Business Hall of Fame. In 1953, Forrest and Nancy began their own automotive business in Johnstown. After a number of years of dedication and hard work, they were given the opportunity to sell Subaru in the United States, one of the earliest franchises and now one of the longest standing Subaru dealers in the country. We could not be more proud of the family and the honor bestowed upon them!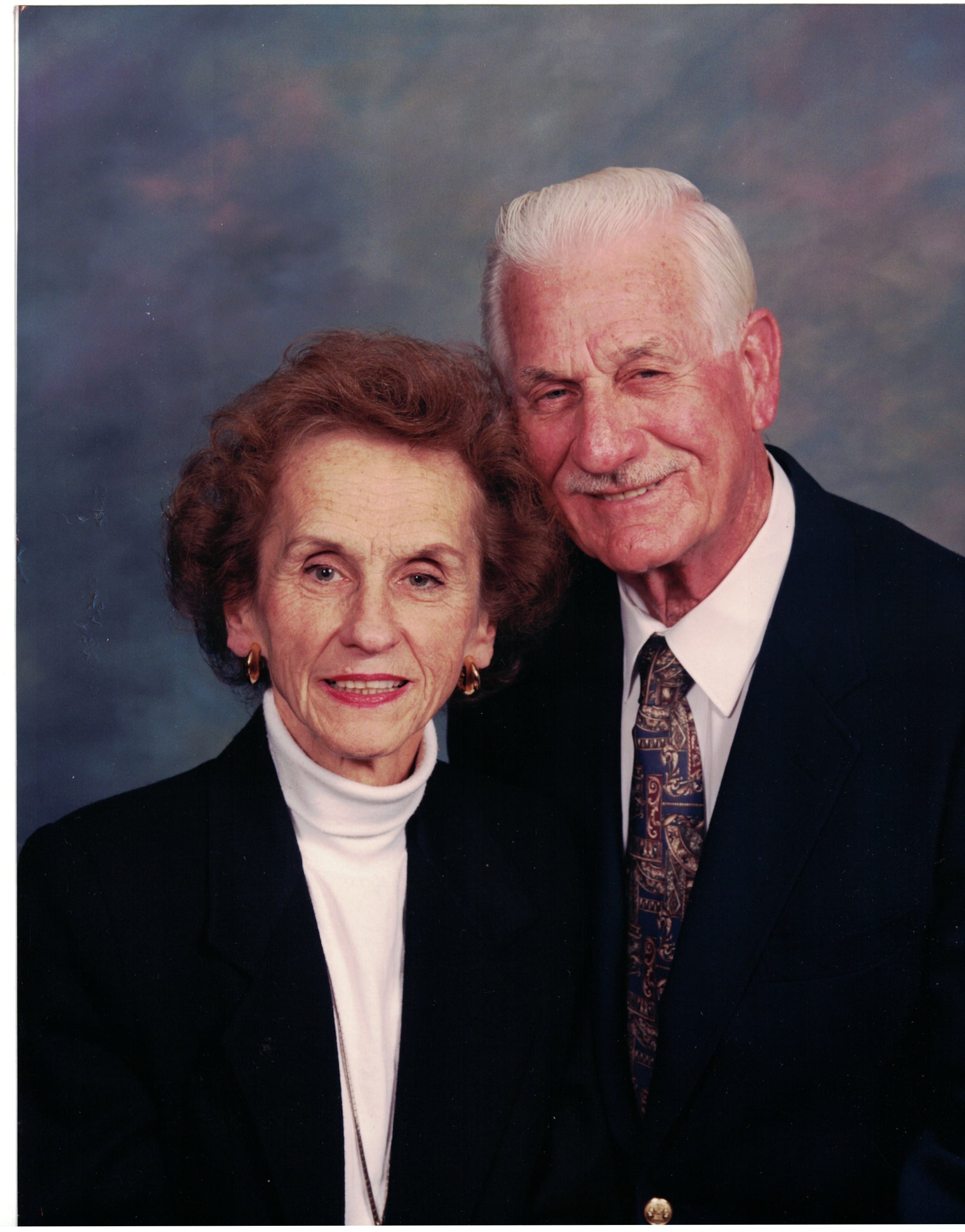 Subaru Loves Pets Trick or Treat
Spangler Subaru teamed up with Paws House, Inc during the Subaru Loves Pets event. During Pet Trick or Treat, which was held at Windber Recreational Park, participants had the opportunity to dress up their pets in Halloween costumes and walk the trail to collect treats. A costume contest was also held and four winners were crowned, taking home a bag full of Subaru gear and Petco gift cards! During the event, donations were also collected to benefit Paws House and various other animal organizations in the area.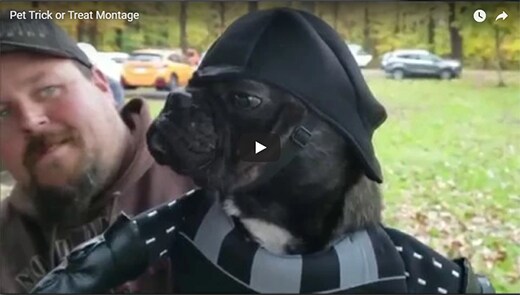 Share the Love Check Presentation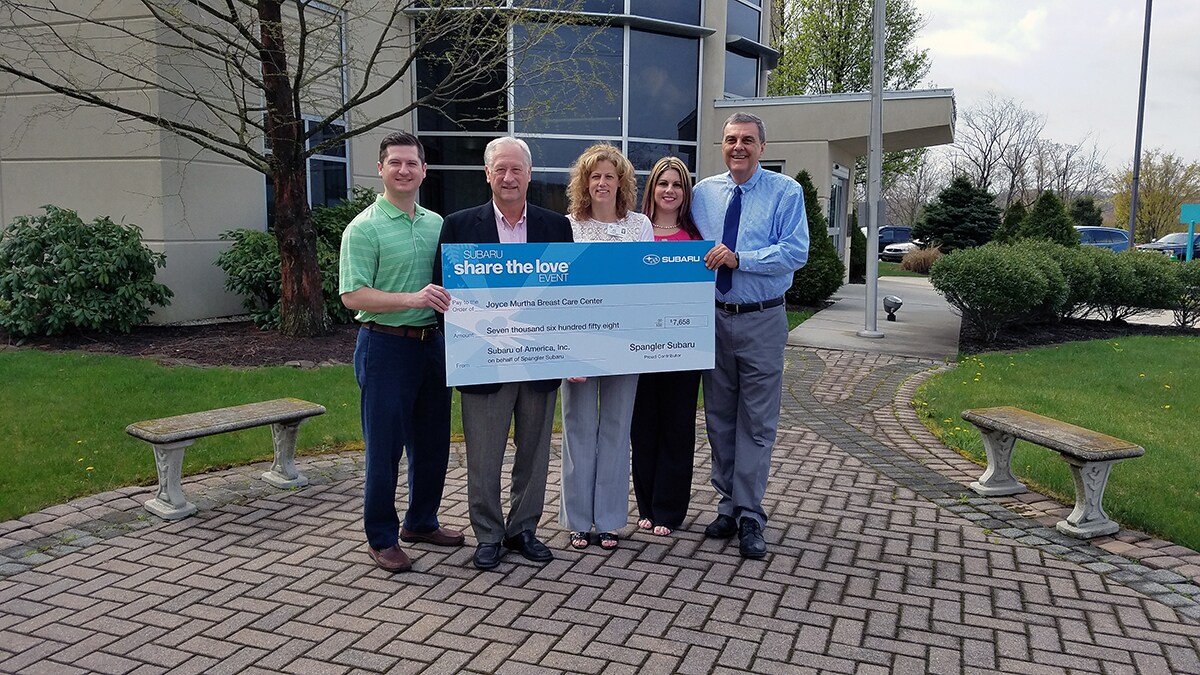 Subaru of America, Inc. ("SOA") and Spangler Subaru today presented a check for $7,658 to Joyce Murtha Breast Care Center. Joyce Murtha Breast Care Center was a beneficiary in the 2016 Subaru Share the Love event. Check out the video and the tour here!

Subaru Loves Learning Book Donation
August 1 - 31, 2016




  




This August of the Subaru Love Promise program focuses on education. Subaru once again partnered with AAAS - American Association for the Advancement of Science, a non-profit organization supporting education the Sciences.
With the help of our customers and AAAS, Spangler Subaru donated more prize-winning textbooks to Divine Mercy Catholic Academy in Johnstown, PA. We are always honored to do our part in helping to enrich the educational experience of their students and teachers.
Spangler Subaru also donated 100 backpacks to the Back To School Bash on August 14th - hosted by the Johnstown Area Heritage Association.


Spangler Subaru Grand Opening
Oct 14th, 2015
After over a year of hard work putting the new facility together, 
Spangler Subaru invited the community to come see it in all of its glory. 
The Ribbon Cutting Ceremony took place on Wednesday, October 14th 2015 at our dealership.