Finance Office Options

Purchasing a new car can be exhausting, especially if it is the first time ever. During the car buying process, emotions range from happiness to frustration. To make this easier, we have added menu options to what products you can purchase while in the finance office. You can see the options below with added pricing so you can know what to expect to pay for the products you want. The finance manager will help walk you through the process and answer any additional questions you may have. In the meantime, you can browse options with Subaru Added Security, Subaru Equity Shield, and Owner's Pride Ceramic Coating below.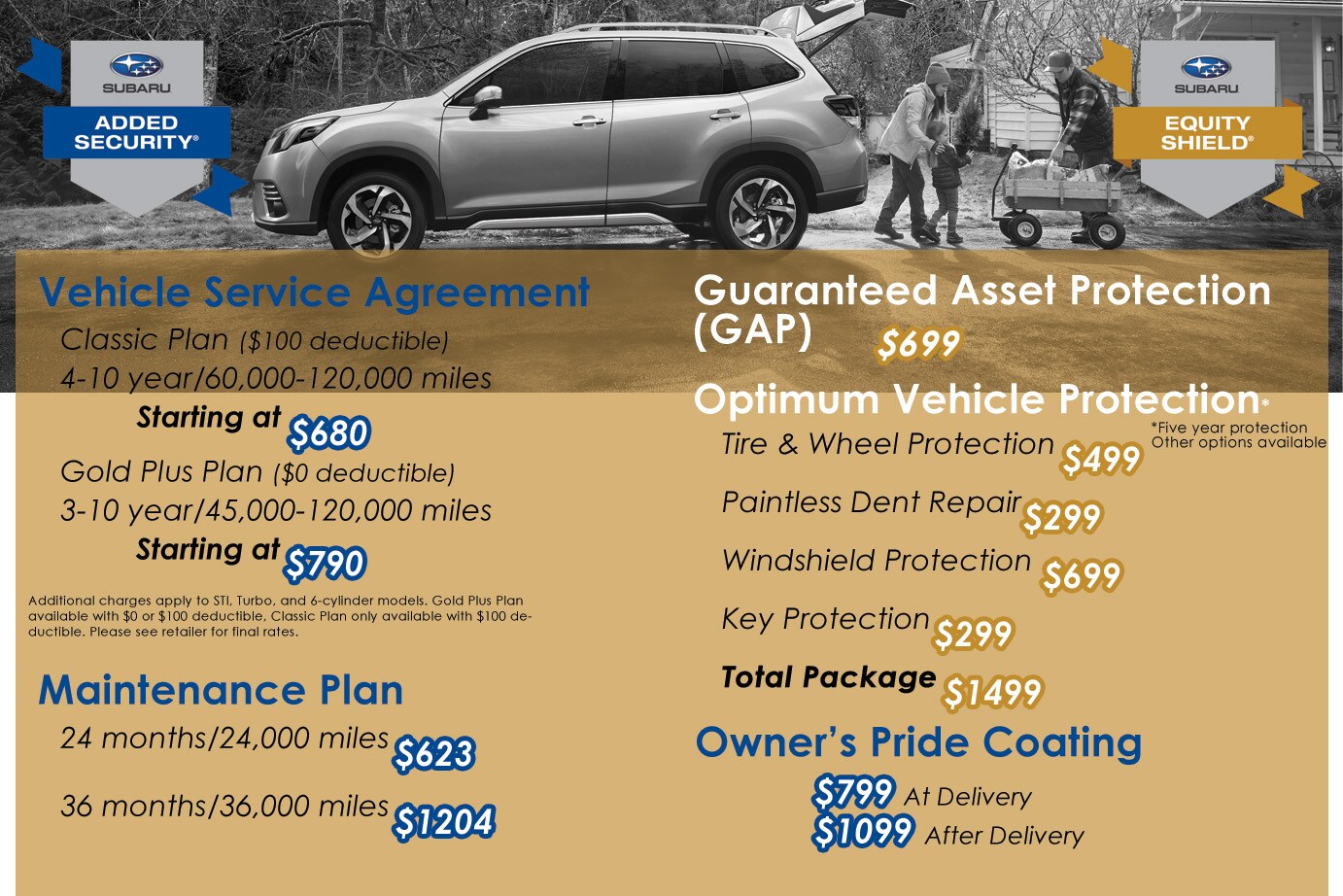 Subaru Added Security
Vehicle Service Agreement
We offer two types of service agreements that cover parts on your Subaru beyond the life of the original factory warranty. Each plan covers hundreds of parts within these ten major component areas: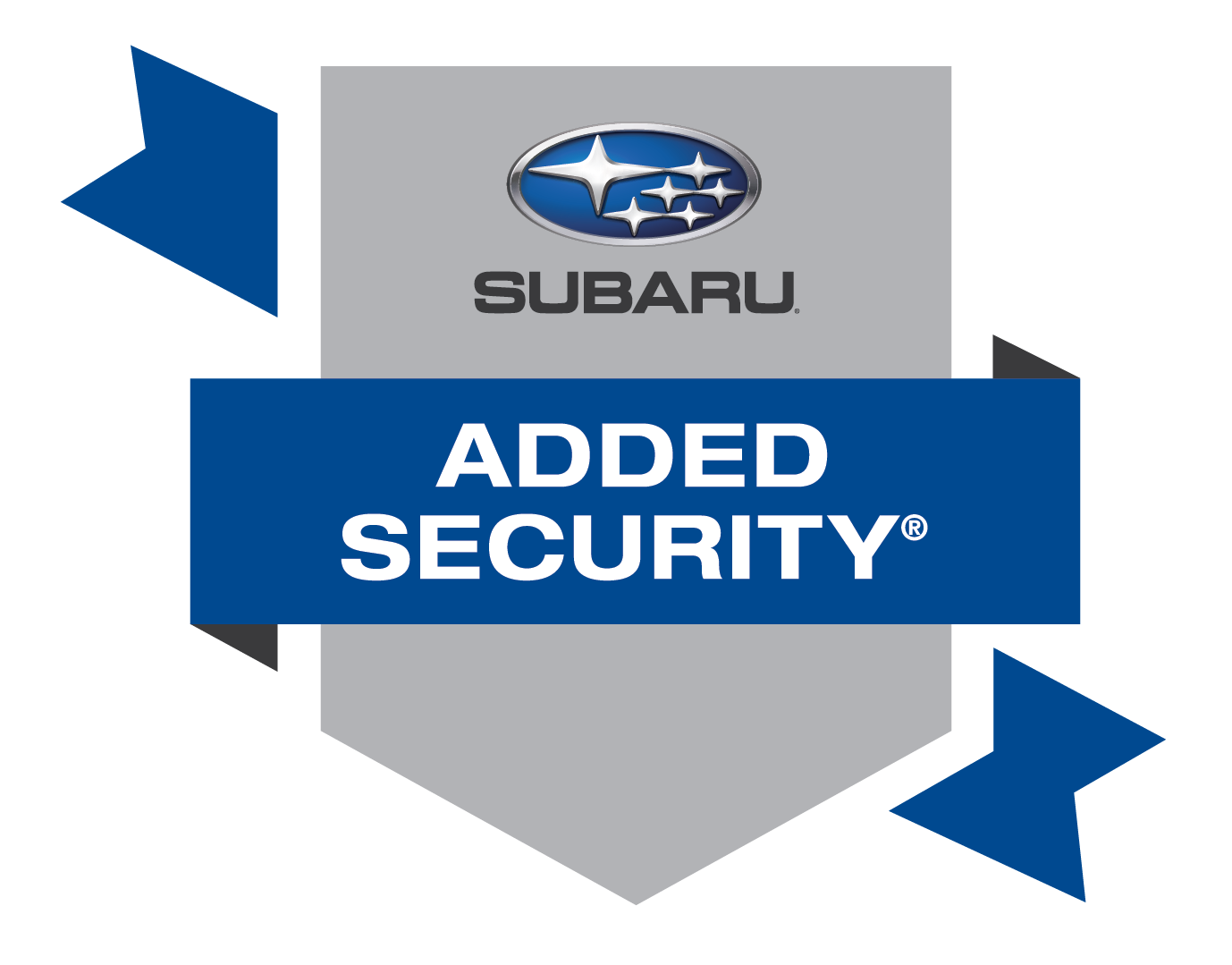 Engine
Transmission
All-Wheel Drive
Front Suspension
Fuel System
Brakes
Cooling System
Steering
Electrical System
Air Conditioning
The Classic Plan covers basic parts in these area plus provides towing and rental car allowances while yours is in the shop. The Gold Plus Plan will provide the same coverage as the Classic Plan plus hundreds of additional parts, roadside assistance, and reimbursement for lodging and meals if a breakdown occurs during an out-of-town trip.
Each plan is offered at varying lengths and mileage, with timeframes up to ten years and mileage up to 120,000.
Maintenance Plan
Another option offered under Subaru Added Security is a prepaid maintenance plan. This plan allows you to lock in the cost of scheduled maintenance so that your Subaru stays in great running condition. It is also a great hedge against inflation, and the service will be performed by Subaru Certified Technicians using only Genuine Subaru Parts. These plans can be purchased for 24 months/24,000 miles or 36 months/36,000 miles.
Subaru Equity Shield
Optimum Vehicle Protection
There are four areas Optimum Vehicle Protection covers:
Tire & Wheel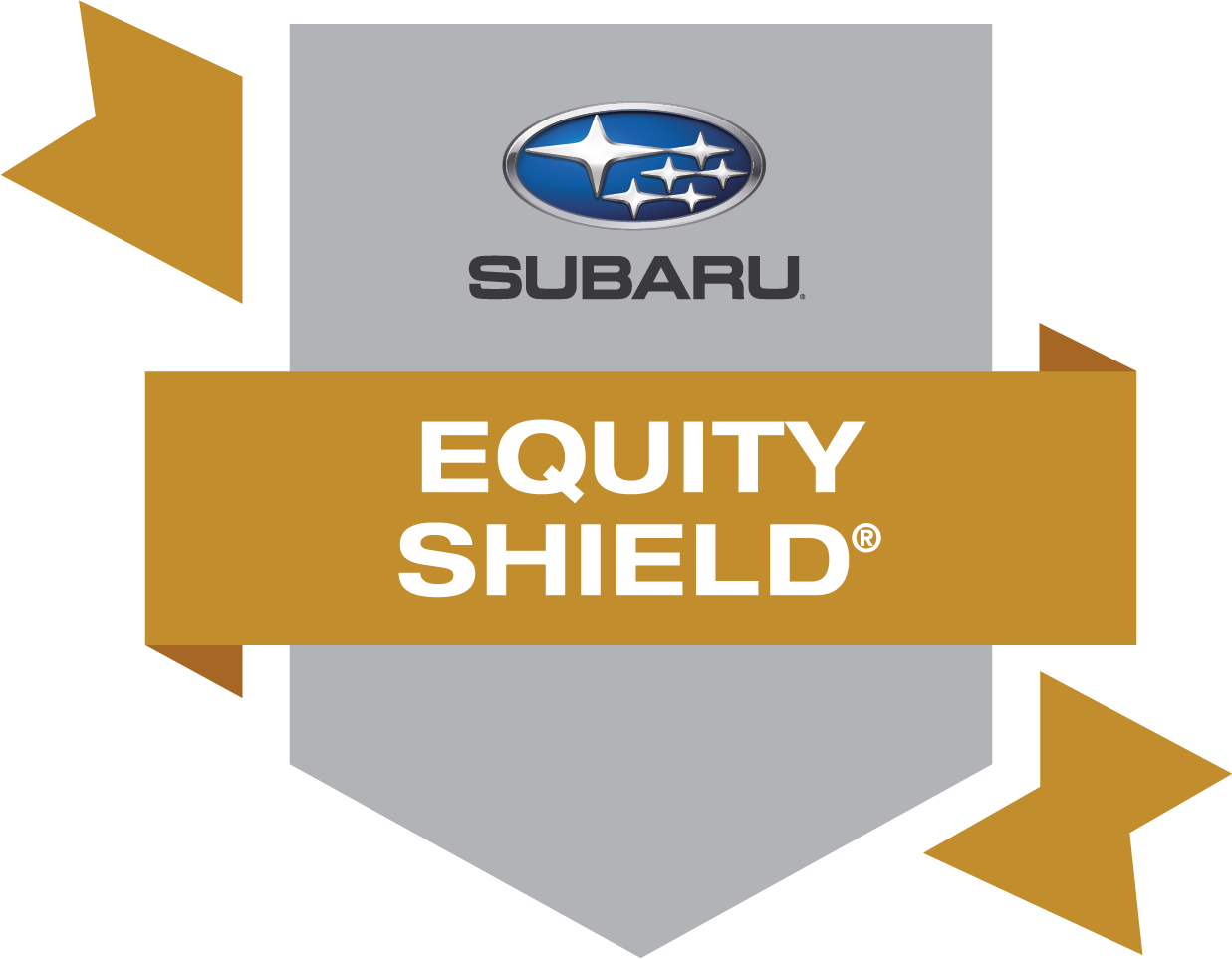 Protection
Repairs or replaces a flat tire or damaged wheel due to road hazard. There is no limit on occurrences over the course of the coverage. Towing expenses up to $100 are also reimbursed.
Paintless Dent Repair Permanently removes door dings and minor dents up to four inches in diameter, plus it covers hail damage up to the lesser of your comprehensive deductible or $1,000.
Windshield Protection Repairs chips and cracks in the front windshield caused by road hazards and debris.
Key Protection Covers the cost of replacing the key or transponder up to $500 per occurrence, plus 24-hour lock-out assistance.
All of the products offered with Optimum Vehicle Protection can be purchased as a group or individually.
Guaranteed Asset Protection (GAP)
We all know how a vehicle depreciates over time. In the event of a total loss, GAP can ensure you are covered in the event the insurance company does not pay the full amount towards the lienholder. GAP PLUS also contributes $1,000 credit towards a replacement vehicle purchased from the Subaru dealer.
Owner's Pride Ceramic Coating
Keep your Subaru looking showroom ready with Owner's Pride Ceramic Coating. This application will protect the exterior and interior of your vehicle. On the exterior, it protects against fading, chalking, loss of gloss, bird droppings and many other corrosive debris. In the interior, it protects against food and drink stains, oil-based stains, and other items that may stain or damage either fabric, vinyl, or leather. 
The Finance Process
After you have browsed and selected your add-ons, it is time to process the finance application. Chances are, your Vehicle Consultant already had you fill out some paperwork and your Finance Manager began working on the request. We want to find the best lender for you and get you the most competitive rate.
At the very end of the finance process, your Finance Manager will wrap all of your selections and options into your monthly payment. If the payment is too high, your Finance Manager will be happy to make adjustments and get the payment within your budget. Our goal is to simplify the process, so you can spend less time worrying about the car buying process and more time enjoying your new Subaru.
If you have any questions or would like to chat with our finance team, give us a call at (888) 904-2464.

**Credit cards will not be accepted as payment for any products or services rendered while in the finance office.
What's Next?