Lease Turn-In
We are in an unprecedented time that is causing major disruptions in our current supply chain. The microchip semiconductor shortage is affecting production in multiple industries across the globe, including automotive. If you are on this page, then chances are you have an upcoming lease expiring and are looking for options to turn your vehicle in, but cannot find a new vehicle available for purchase/lease.  Fortunately Subaru Motors Finance and Chase Bank have offers and options if you are nearing the end of your lease contract. You can find these options below.
Nearing Lease-End Contract
Extension
Subaru Motors Finance is offering to grant lease extensions up to 6 months for leases that have not previously been granted an extension. You will still need to keep your account current and make monthly payments. Lease Customer Service can be contacted at (866) 401-9743 or with Secure Message on Chase.com or the Chase Mobile App. You can also visit
Subaru Motors Finance online
and click on
Extend your Lease.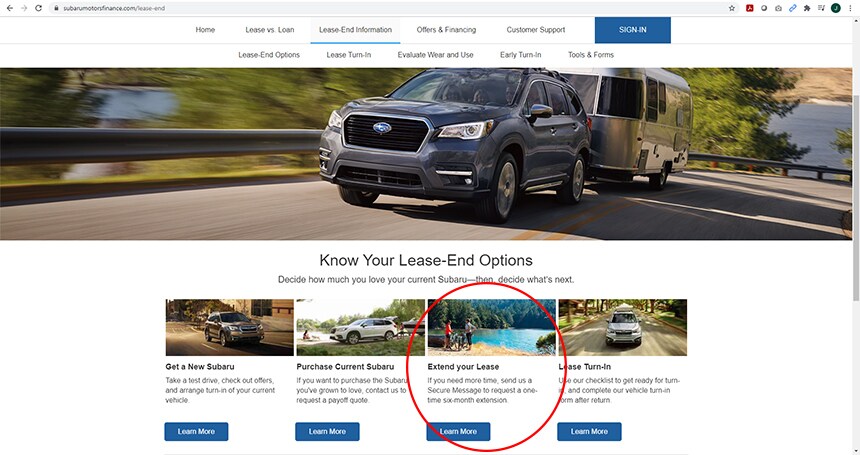 Lease-End Consulting
This only applies if your lease turn-in is outside a 180 day window. You can speak with Lease End Consulting by calling (866) 401-9741.
Reserve New Lease/Purchase
While we may not have the vehicle you are searching for right now, we can build & order your new Subaru today! The Subaru production facilities began operating at full capacity again at the start of May. This means it will only be a short time until sold order units are built and shipped. You can find more information
here
or fill out the form below and someone from the sales team will contact you shortly.
Hours
Monday

9:00am - 7:00pm

Tuesday

9:00am - 7:00pm

Wednesday

9:00am - 5:00pm

Thursday

9:00am - 7:00pm

Friday

9:00am - 5:00pm

Saturday

9:00am - 3:00pm

Sunday

Closed