The 2021 Subaru Love Promise Customer and Community Commitment Award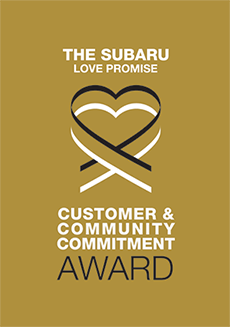 We've been nationally recognized for our dedication to our customers, our community, and the Subaru Love Promise.
We're honored to receive the 2021 Subaru Love Promise Customer and Community Commitment Award. This award nationally recognizes elite Subaru retailers who provide an exceptional customer experience at every interaction with Subaru. These retailers have also demonstrated an outstanding commitment to supporting passions and causes in their local communities in important areas such as the environment, community, health, education, and pets.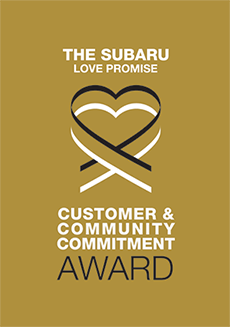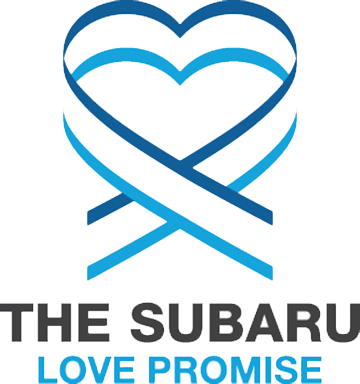 What is the Subaru Love Promise?
Subaru and our retailers believe in making the world a better place and the Subaru Love Promise is our vision of respecting all people. This is our commitment to show love and respect to our customers and to work to make a positive impact in the world.
How is Spangler Subaru dedicated locally to the Love Promise?
Our Love Promise can be seen in various partnerships with local charities and non-profits. We're grateful for the opportunity, not only to be a part of our community, but to serve it as well.
Humane Society of Cambria County, Habitat 4 Hounds
Confluence Tourism Assoc., Stackhouse Park, Sandyvale Memorial Gardens
Cambria County Library, Learning Lamp, Valley School of Ligonier
Arcadia Theatre, Bottle Works Ethnic Arts Ctr., Johnstown Area Heritage Assoc, Johnstown Oldtimers Assoc, Johnstown Symphony Orchestra
Leukemia & Lymphoma Society, Conemaugh Memorial Hospital, Taunia Oechslin Girls Night Out Foundation, The Stork Fund
Love Promise Stories from Spangler Subaru
Subaru and Spangler Subaru believe in making a positive impact on the communities in which we live and work. We uphold that belief through our Love Promise Community Commitment. Every month, we select inspiring stories from customers and partners from around our area who strive to support our collective commitment and feature them here
Food Bank - Johnstown Food Distribution - Michelle M
On Wednesday, May 12th in Johnstown, volunteers from Spangler Subaru helped load 717 cars with 30 to 50 pounds of food (per share). Each car represented one or more families from the area who may rely on this monthly distribution for food support. The volunteers helped distribute 1,150 shares of food, which totals to approximately 69,000 pounds of food. It is thanks to your efforts that we are able to continue to meet the need of individuals in Johnstown and surrounding areas who need food assistance. On the behalf of Greater Pittsburgh Community Food Bank and the people we serve, thank you so much for your willingness to volunteer. It is because of people like you that we are closer to achieving our mission of a hunger-free community.
---
Night Music @ the Library...to GO! - Patty H
In 2021, the Cambria County Library transformed their annual Night Music at the Library fundraiser into a safe, fun drive through dinner and music streaming event. Spangler Subaru supported this reimagined event as a Quarter Note sponsor, helping to bring this beloved tradition to the library's friends and donors that have patronized Night Music for the last 16 years. The library was able to deliver 180 dinners and a compilation of 15 local bands for Night Music to GO! Thank you for helping to make this unique event a success!
---
Spangler Subaru supports Stork Fund - Olivia B
Spangler Subaru recently sponsored the Thrift Fashion Event to help raise money for Stork Fund. Stork Fund is a local charity that financially supports fertility treatments and adoption fees. Without the help of Spangler Subaru, the event would not have happened to raise over $3,000. With Covid-19 making it hard to have successful events, Thrift Fashion Event needed to set itself apart. Spangler Subaru sponsored a beautiful first look reception for the event which drew nearly 100 people with presold tickets guaranteeing the charity would make money. With the generosity of people and businesses like Spangler Subaru, the first Stork Fund awardee baby is due in 2021!
---
Reindeer Family Photoshoot - Cortney D
On November 21, 2020, over 20 families came out to Spangler Subaru to participate in the 2nd Annual Reindeer Photoshoot. Spangler Subaru came up with this amazing idea last year and with all of its success, we knew we had to do it again in 2020. Even during a Global Pandemic Spangler Subaru continued to be a big supporter for the Western PA/WV Leukemia and Lymphoma Society/Greater Alleghenies Light the Night. We appreciate their dedication to helping LLS get one step closer to our mission - a world without blood cancers.
---
Renzo Finds his Furever Family - Jessica V
Renzo was 1 of 6 adoptable dogs of the Humane Society of Cambria County who participated in our #MakeaDogsDay Adoption Event organized by Spangler Subaru. On Thursday, October 22nd, Renzo visited the dealership in hopes of finding his home after spending 3 weeks at the shelter. While at the dealership he received lots of love and attention, and earned his way into the hearts of 4 Spangler Subaru employees. These women decided to sponsor his adoption fee of $75 to help him find his furever home. And, help him they did. On October 31, Renzo was fortunate enough to go home with his loving parents and dog sister, Rosie. Spangler Subaru made his adoption extra special by providing an adoption kit that included a hand painted Christmas ornament of Renzo. We are so happy for Renzo and his new family, and very grateful for the assistance of Spangler Subaru in creating this happy ending.
---
Reindeer Photoshoot - Angelina S
On November 16, 2019, 30 families came out to Spangler Subaru to participate in the 1st Annual Reindeer Photoshoot. When we opened the sale of these exclusive photoshoots, all spots were filled within an hour! Spangler Subaru came up with this amazing idea and we couldn't imagine how successful this event would be. Spangler Subaru is a big supporter of the Western PA/WV Leukemia and Lymphoma Society/Greater Alleghenies Light the Night. We appreciate their dedication to helping LLS get one step closer to our mission - a world without blood cancers.
---
Spangler Subaru Drives Books into Hands of Kids - Kerri B
With a generous donation of 150 science books to The Learning Lamp in October, Spangler Subaru displays they stand behind their goal of making the pursuit of knowledge available to as many minds as possible as part of their Subaru Loves Learning initiative, a component of their month-long "Subaru Loves to Care" campaign. The books, covering a wide variety of topics from ocean exploration to volcanoes, have been distributed to The Learning Lamp's preschool programs across Cambria, Somerset and Bedford counties, inspiring in children a love for books and science. Preschoolers in Richland are thrilled with the books and enjoy carefully looking though them, identifying the photographs, asking a lot of questions and even telling us a story - or two! With the help of community partners like Spangler Subaru, we are lighting the way to a brighter future for children in our community.
---
Spangler Subaru Delivers Hope - Breanna S
On June 27, patients and families at Conemaugh Memorial Medical Center were delighted to receive a surprise courtesy of Spangler Subaru. The dealership distributed 80 blankets as well as uplifting care cards handwritten by Spangler's customers and staff, featuring messages of hope and inspiration for patients. Forrest Spangler, Garrett Spangler and Ryan Spangler personally delivered the donation of new blankets and cards with the help of LLS staff member and blood cancer survivor Angelina Shilcosky, who was treated at Conemaugh. This is the fourth year in a row that Spangler Subaru generously partnered with The Leukemia & Lymphoma Society (LLS) on their month-long "Subaru Loves to Care" program, and all of us at the Western PA & WV Chapter of LLS are extremely grateful for their continued support and for partnering with us to spread love, hope, and warmth to cancer patients right here in our own hometowns.
---
Spangler Donations Help Johnstown Cancer Patients - Breanna S
Spangler Subaru wants to show local cancer patients that they aren't alone in their fight against this terrible disease. So for the third straight year, Spangler partnered with The Leukemia & Lymphoma Society (LLS) on their month-long "Subaru Loves to Care" campaign. On June 14, Forrest Spangler, the dealership's owner, and General Manager had the opportunity to deliver blankets to patients receiving treatment at Conemaugh Memorial Medical Center in Johnstown, PA. Spangler Subaru generously donated 80 blankets to the facility along with numerous messages of hope. The Conemaugh staff was thankful to receive these blankets because they're so useful for patients who get cold during treatment. Along with the blankets, Spangler brought heartwarming notes written by Subaru customers, meant to inspire these patients throughout their battle. The experience was moving for all involved, including Angelina, an LLS staff member and blood cancer survivor who was treated at Conemaugh. LLS owes a debt of gratitude to everyone at Subaru of America and Spangler Subaru for making this program possible. Thank you for joining us in our mission to cure blood cancers and to improve the lives of patients and their families throughout our local communities.
---
Spangler Brings Hope, Warmth to Conemaugh Patients - Breanna S
For the second year in a row, Spangler Subaru teamed up with The Leukemia & Lymphoma Society (LLS) to deliver care packages from their Subaru Loves to Care event to Conemaugh Hospital. LLS Campaign Assistant Angelina Shilcosky, a blood cancer survivor, was able to hand-deliver Spangler's donation to her own oncologist, Dr. Ibrahim Sbeitan. Dr. Sbeitan and the other members of Conemaugh's fantastic medical team will distribute the gifts along with messages of hope written by Spangler Subaru's customers. These care cards are designed to show patients that, despite never having met, members of their own community wish them well and want them to win their battle against cancer. Spangler generously included 10 arts and crafts kits for children, as well as 80 blankets to make treatment more comfortable for those receiving chemotherapy at the hospital. Many thanks to everyone at Spangler Subaru and Conemaugh Hospital who made this July 6 donation possible. Thanks also to Subaru of America and Spangler Subaru for promoting LLS's mission and programs through their Loves to Care program and social media. Their support of our goal to cure blood cancers and improve the quality of life of patients and their families is invaluabl. Pictured, from left to right, are Dr. Ibrahim Sbeitan, Garrett Spangler, Angelina Shilcosky, Ryan Spangler, Forrie Spangler, Mindi Licastro, Shanna Moore, Kathy Smay, Jen Pavelko, and Cathy Stephens.
---
LLS Donation - Nicole S
Nearly 1.3 million people in the United States suffer from a blood cancer, and many of those cannot afford the costly treatments. For the month of June, Spangler Subaru is trying to make a difference. Come in and fill out a message of hope that will be delivered to the Conemaugh Cancer Center where they will also be donating blankets and any other donations given to them. https://www.facebook.com/SpanglerSubaru/videos/10158856855995451/
---
Subaru Share the Love - Nick S
The Subaru Share the Love Event is finally here! From now until January 3rd, if you purchase or lease a new Subaru, a $250 donation will be made to the charity of your choice. This year, Spangler Subaru's hometown charity will be the Joyce Murtha Breast Care Center. The Breast Cancer's Care Center's mission is to prevent and treat breast cancer in the local community. The national charities participating this year are ASPCA, Make-A-Wish, Meals on Wheels America, and National Park Foundation. Put a little love in your hear this holiday season during the Subaru Share the Love Event at Spangler Subaru.
---
Driving Full Circle - Codi F
When LLS Executive Director Tina Thompson and Light The Night Campaign Coordinator Angelina Shilcosky were on their way to Conemaugh Cancer Center in Johnstown, PA, they had no idea their journey was about to come full circle. Angelina is not only an LLS staff member but also a BLOOD CANCER SURVIVOR! The first group of blankets from Stuckey Ford Subaru were delivered to the CEO of Conemaugh, Scott Becker. What happened next gave the entire office staff chills. While in Conemaugh, Angelina saw someone walking down the hallway just by chance. As he got closer, she realized that she knew exactly who this person was! It was her own oncologist, Dr. Sbeitan! Angelina was able to hand deliver the blankets from Spangler Subaru to her own doctor to distribute to cancer patients fighting the same battle she has thankfully overcome. Angelina was diagnosed with Chronic Myeloid Leukemia (CML) in December 2005 when she was 12 weeks pregnant. Today, Angelina's CML is managed by taking a single pill every day, while her son Isaiah is a happy, healthy 10 year old. This past February, the Shilcosky family celebrated Angelina's 9th year in remission! Talk about coming full circle.
---
Subaru Loves Learning Book Drive August 1 - 31 - Danielle S
Join us in our Subaru Loves Learning initiative during the month of August! We are partnering with the American Association for the Advancement of Science (AAAS) in donating science books to Our Mother of Sorrows in the Diocese of Altoona - Johnstown. All of the books that will be donated have been recognized by AAAS as some of the best science books in their field. Contact us to learn more information.
---
Mini THON - Hosted by Bishop McCort High School - Kate M
Students at Bishop McCort are gaining hands-on experience in event management and philanthropy, and joining in the fight against pediatric cancer. They have teamed up with the Four Diamonds Fund at Penn State Hershey Children's Hospital to hold their first ever Mini-Thon. We here at Spangler Subaru were honored to donate a portion of the funds that helped the students raise over $8,300. Great job students! We are one step closer to a cure...For The Kids! #FTK
---
Flood City Music Festival - Shelly J
We here at Spangler Subaru have been a proud partner of the Flood City Music Festival in Johnstown since 2009. In addition to stage sponsor, we have given away thousands of Subaru items to festival goers. We love the joy it brings to kids and families in attendance. Locals always come up to us and simply thank us for supporting their local music festival. There is no doubt it is the best weekend in Johnstown every year. That's what it's all about!
---
Sharing the Love with Stackhouse Park - Leanna B
Spangler Subaru and Stackhouse Park teamed up for the annual Subaru Share the Love Event. The park is open to the public year-round with special programs for the entire family. Spangler Subaru presented a check worth $3,708 to the Stackhouse Park ranger to help fund the programs and upkeep of the park. We are so proud to help be a part of this beautiful place in our area.
---
Adventure X-Fest - Jennifer B
One weekend in October, mountain bikers, trail runners, kayakers, and even flyfishermen gathered in Johnstown, PA, to engage the mountains, the water and the trails and celebrate the great outdoor adventures found here in the Alleghenies. The fall weekend concluded with none other than the 39th annual Johnstown Marathon. We were so proud to help support this great outdoor weekend. Thank you to those who came out and enjoyed themselves.
---