Shopping from home has never been easier! We now offer a fully operational online sales experience!
While online retailers have offered many products and fast shipping for several years, the auto industry has fallen behind. Fortunately, retailers like us are taking steps to transform the old, arduous, and long experience into a completely different car buying experience that caters to your needs. 
We understand many of our customers live busy lifestyles, and the car shopping experience is only taking time out of your adventure. Now you can shop, purchase, and have your new Subaru delivered to you all from the comfort of your home!
Shop Our Online Inventory
The process is simple. First shop all of our available inventory online. You can shop our new Subaru, certified pre-owned Subaru, or pre-owned selections. 
Start Your Deal Online
Once you have chosen the vehicle for you, start the online purchase process by clicking on Start Your Deal. This will start the process of purchasing your new Subaru. It is much like a shopping cart on any other retailer website. Once the vehicle is chosen, we will collect all pertinent information from you to complete your purchase through a step by step process. This includes a virtual trade evaluation, a credit application, and additional product offerings, among other things.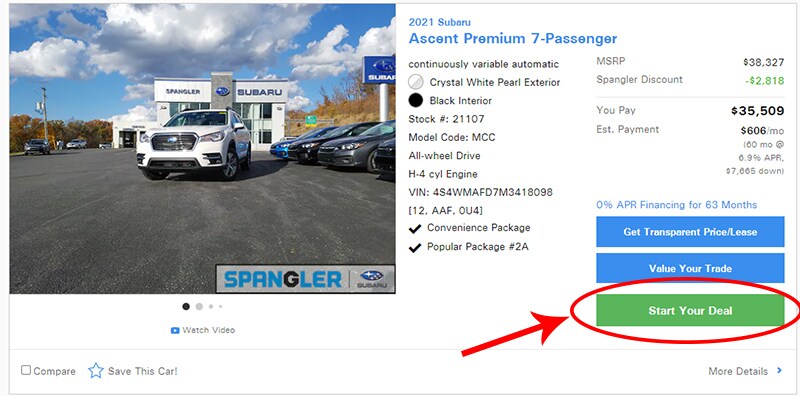 Reserve Your Purchase
After providing us all information to complete your purchase, you will then reserve your new Subaru. We receive all information you have provided, and a member of our Internet Sales Team will reach out to you to confirm all details. Then we will send you all necessary paperwork to sign electronically. This paperwork must be signed on a desktop computer or tablet; paperwork cannot be signed on a smartphone. 
We Deliver To You
Finally we bring your new purchase to you. Deliveries can be made within a 25 mile radius of our location. If you are outside of this range, please let us know when we contact you to confirm paperwork. Alternatively, you may still reserve your vehicle online, but come to our location to drop off your trade and pick up your new Subaru. 
We are thrilled to bring this service to you!
Hours
Monday

9:00am - 7:00pm

Tuesday

9:00am - 7:00pm

Wednesday

9:00am - 5:00pm

Thursday

9:00am - 7:00pm

Friday

9:00am - 5:00pm

Saturday

9:00am - 3:00pm

Sunday

Closed